The strengths of BambooStick®
An unequaled capacity for absorption

A perfectly safe ear cleaning

An appreciable time-saving

A special ergonomic design

An incomparable softness
MEET US ON THESE SHOWS !
IBERZOO / PROPET : from 15th to 17 March 2018 in Madrid (Spain)
PATS : from 20th to 21st March 2018 in Sandown (England)
LATINZOO : from 04 to 08 April 2018 in Buenos Aires (Argentina)
PHARMAGORA PLUS : from 07th to 08th April 2018 in Paris (France)
CLINICAL PHARMACY CONGRESS : from 27th to 28th April 2018 in London (England)
INTERZOO : from 8th to 11th May 2018 in Nuremberg (Germany)
FRANCE VET : from 08th to 09th June 2018 in Paris (France)
FIME SHOW : from 17th to 19th July 2018 in Orlando (USA)
PHARMACY SHOW : from 07th to 08th October 2018 in Birmingham (England)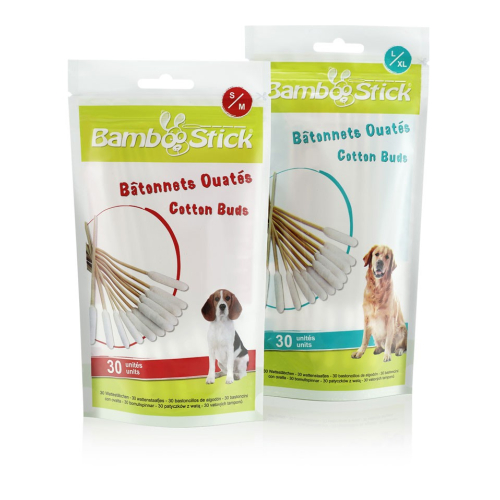 BambooStick® is a cotton bud specially designed for the healthcare of dogs' ears. It is currently the most effective solution for curative and preventive care of the dog's ear. It's available in 2 sizes : S/M for little dogs ans L/XL for medium and large dogs. Free shipping worldwide.
Bags of 30 or 50 sticks.
More details